Making It Count: Spotlight on Jones, Henle, & Schunk, Strategic Accounting Advisors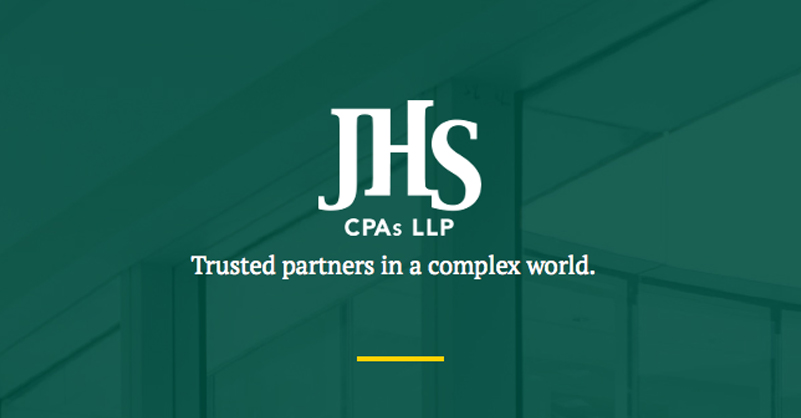 Construction is so much more than being out in a job site. In fact, the success of a company can hinge on a properly performed construction contract. That's why it's important to have experts with a deep and wide knowledge of the construction industry.
Jones, Henle & Schunck (JH&S) started 35 years ago with two partners. One of the two, Kay Jones, was a chief financial officer for a construction company, which created the groundwork for a firm that focused on the construction industry's accounting, income tax and general business consulting needs.
Tom Henle and Karl Schunck joined very shortly after the firm opened. While Schunck's years with a "Big 8" firm primarily involved publicly traded companies and SEC compliance oriented work, he was ready for a change. "Although I valued that experience, I wanted to have a closer relationship with my clients, to make a difference," Schunck says. Most of the privately-owned companies the firm serves do not have CPAs as controllers or CFOs. "This provides the opportunity to have an impact on their operations," says Schunck. "It's a very satisfying experience to save large sums of money by properly structuring events or transactions involving their operations."
Schunck remembers one construction company who was having trouble obtaining surety bonds, because it was having a difficult time "making its case" with the surety bond underwriter and broker. One of the new client's problems was a failure to understand and thus properly report in their financial statements the concept of "under" and "over" billing.
Schunck and the company president/majority stockholder cleared a conference table and analyzed how every line on their jobs in progress schedule worked, and how it impacted the balance sheet and income statement. After that meeting, the company's issues with its bonding company and bank vanished, and it went on to be awarded honors in Washington, DC as the National Minority Contractor of the year.
Another key for owners and their financial personnel is understanding what's in their financial statements and corporate income tax returns. It can be downright embarrassing to not be able to answer a banker's question, for example, why gross revenues in the financial statement are different from what's reported in the tax return. The owner needs to understand that one may be based on percentage of completion reporting, and the other on the completed contracts or cash method of reporting revenues.
Owners and their financial personnel also need to understand the impact of accounting transactions and how they "flow" into their balance sheets and income statements. They should be able to visualize how approval of a project change order, for example, affects under or overbillings, the working capital ratio, stockholders' equity or any of a number of factors used by banks and surety companies in granting credit. Demonstrating such an understanding with a surety bond underwriter or a banker greatly enhances creditability with those business partners.
Almost all of JH&S's construction clients emerged successfully from the downturn, including those in residential construction such as grading and paving, plumbing, electrical, landscape and the like. Yes, construction volumes generally decreased but the firm's residential construction clients are poised for expected volume increases.
To assist them in processing their accounting data and construction activities, JH&S's construction clients utilize a variety of accounting software, which are fully integrated and provide proper cut off and audit trails, work in progress or "bonding company reports" and estimating and construction equipment modules often necessary to contractors.
With its proven expertise in construction, it's no surprise that JH&S has partnered with Merriwether & Williams for over ten years. Over the years, the firm has given construction accounting classes for their current and prospective clients and participated in MWIS's contractor networking events. It's a mutually beneficial partnership that yields great results on both sides.
JH&S serves its clients with over 25 employees, including over 20 professionals, from its Danville, California and Orange, Southern California offices.
<div class="inner_event_cvr"> <div id="in_event_img"> <img src="https://imwis.com//wp-content/uploads/2015/10/ab_side_1.jpg"> </div> <!-- in_event_img --> <div id="in_event_texts"> <h4>Connecting the dots</h4> <a href="https://imwis.com//category/connecting-the-dots">read more</a> </div> <!-- in_event_texts --> </div> <!-- inner_event_cvr -->
<div class="inner_event_cvr"> <div id="in_event_img"> <img src="https://imwis.com//wp-content/uploads/2015/10/ab_side_2.jpg"> </div> <!-- in_event_img --> <div id="in_event_texts"> <h4>Regional Newsletters</h4> <a href="https://imwis.com//category/recent-news/">read more</a> </div> <!-- in_event_texts --> </div> <!-- inner_event_cvr -->
<div class="inner_event_cvr"> <div id="in_event_img"> <img src="https://imwis.com//wp-content/uploads/2015/10/ab_side_3.jpg"> </div> <!-- in_event_img --> <div id="in_event_texts"> <h4>calendar</h4> <a href="https://imwis.com//calendar/">read more</a> </div> <!-- in_event_texts --> </div> <!-- inner_event_cvr -->
<p><script type="text/javascript"> jQuery( document ).ready(function() { jQuery("#acx_form_holder form").attr("id","acx_email_sub"); jQuery("#acx_form_holder .name").attr("class","name acx_field"); jQuery("#acx_form_holder .name").attr("placeholder","Full Name"); jQuery("#acx_form_holder .email").attr("class","email acx_field"); jQuery("#acx_form_holder .email").attr("placeholder","Email Address"); jQuery("#acx_form_holder .pushbutton-wide").attr("id","submit_em"); }); </script>