Alameda County – Contractor Technical Assistance Program
According to the 2010 U.S. Census, Alameda County is the 7th most-populated county in California and based on a 2014 analysis, the 4th most racially diverse county in the United States.
Nurturing and tapping into the tremendous potential of this diverse population creates economic development and sustainable community growth, which is why Alameda County established its Contractor Technical Assistance Program (CTAP). Through this forward-thinking program, Alameda County has increased equitable access to contracting opportunities by assisting local small, minority, women and veteran contractors to meet County requirements and qualify for bonding or increase their bonding capacity for Alameda County construction and other projects requiring bonding.
Photo Above: Daniel Ramirez (CC by 2.0) via Wikimedia Commons
Contractor Technical Assistance Program Services include:
Supporting contractor success through individualized technical support and group workshops on bonding, financing and business management.
Assisting contractors in obtaining required insurance and bonding.
Providing bid, performance, and payment bond guarantees to surety companies (up to the lesser of 40% of the bond amount or $750,000).
Coordinating with Third Party Fund Administrators to ensure that project-related expenses are paid in a timely manner.
Cost: Program services are sponsored by Alameda County and are provided at no charge to participating Contractors.
Enrollment Eligibility: To participate in Alameda County's Contractor Technical Assistance Program (CTAP), local contractors must be certified as a Small Local or Emerging Business (SLEB), a Disadvantaged Business Enterprise (DBE), Local Business Enterprise (LBE), Small Business Enterprise (SBE), Minority Buisness Enterprise (MBE), Women-owned Business Enterprise (WBE), or be approved to participate in Alameda County's Construction Outreach or Enhanced Construction Outreach programs. To learn more about obtaining these certifications or becoming approved for participation, please visit the following links:
SLEB Certification
DBE Certification
SBE Certification
Participating Departments:
The A-1 Housing Bond: historic work opportunities in Alameda County
Alameda County's A-1 Housing Bond and inclusion goals provide billions of dollars in construction work for local tradespeople and small businesses. Creating and renovating affordable housing requires a massive number of skilled contractors and laborers.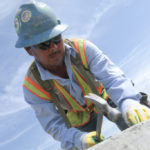 If you are a small licensed, local contractor interested in working on A-1 Housing Bond projects, be sure to complete our A-1 Contractor Registration Form so that we can include you in the list of available licensed contractors that we provide to project developers, prime contractors and project owners. We will also keep you in the loop about A-1 Housing Bond-related opportunities.
To see a partial list of some of the construction-related work available on A-1 Housing Bond projects, and for related information, links and resources, please visit our A-1 Contractor Opportunities pages.  To learn more about Contractor Bonding Assistance specific to the A-1 Housing Bond, visit our A-1 Contractor Technical Assistance page. We invite you to explore, reach out, register, and get connected!

Building relationships with small contractors
Looking to provide the opportunity for local, small contractors to participate in the construction of the Alameda County Juvenile Justice Center, Hensel Phelps Construction Company contacted Merriwether & Williams Insurance Services in 2005 to provide assistance in securing the necessary bonding for small contractors. With guidance from MWIS, Hensel Phelps partnered with Alameda County to implement a project-specific contractor bonding assistance program. This unique program allowed the prime builder to negotiate subcontracts correlating with the bonding capacity that MWIS was able to secure. Through contract phasing and material and supply bonds, the program was able to secure $8.7 million in contracts for small local firms, with the largest individual contract award being $1.8 Million. The success of this initial effort led to Alameda County instituting a county-wide program in 2008.
"We knew that bonding would be a challenge for the small local contractors working on the Juvenile Justice Center project.  We are proud to have made our own investment in a project specific bonding program than enabled minority contractors to complete $8 Million of work on this important project, and to serve as a model for inclusionary public works construction throughout Alameda County."
 —  Sean Carolan, Operations Manager Northern California District, Hensel-Phelps Construction
Photos: Alameda County Juvenile Justice Center, Courtesy of Hensel-Phelps Construction Company
(click on photos to enlarge)
Contributing to healthy local economies
When Alameda County undertook the renovation of its main hospital, including a new acute care facility, the County's Contractor Technical Assistance Program (CTAP) helped small local contractors participate in this sizable project.
"As we modernize our hospitals, court buildings and community centers, we are proud of our efforts to include small, local contractors in the construction.  Working with Merriwether & Williams, we have helped local contractors secure contracts throughout Alameda County, generating more local economic activity and more local jobs." — Supervisor Nate Miley
With the support of the services provided by CTAP, Accurate Firestop, Inc.'s owner Javier Lucatero was able to increase his business' bonding capacity by 80% and was able to provide expert fire suppression services for the hospital construction.
"Without the program's assistance, [we] would not have been able to obtain the requisite bonding for the Highland Hospital ATR project. Due to the quality work we have completed, and the strong relationships we have built while working with Performance Contracting Inc. and Clark Construction on Highland Hospital, we have been requested to complete additional projects. CTAP has since helped facilitate an additional increase in our bonding capacity."
— Javier Lucatero , owner Accurate Firestop, Inc.
Photos: Highland Hospital Acute Care Tower Replacement Project, Courtesy of Alameda Building and Trades Council   (click on photos to enlarge)
Working through challenges to achieve the greater goals
Job Order Contracting (JOC) is a type of competitive bidding process which allows construction services to be completed on an as-needed basis more rapidly and at a lower cost than traditional construction bidding processes. Because JOCs are often smaller contract size task orders, they also provide opportunities for smaller contractors to grow their capacity and their businesses. Deets, Inc., a small local contractor providing electrical services, was able to secure a $1.2 Million Job Order Contract with Alameda County that expanded to $3 Million within six months, but then – in the middle of the project – the company was suddenly faced with an unexpected circumstance which could have disrupted the contract performance. With help from the business operations support services provided by the County's Contractor Technical Assistance Program, Deets, Inc. was able to keep working on the County project, keeping people employed and continuing the owner's goal of successfully growing the business.
Are you a contractor interested in participating in Alameda County's Contractor Technical Assistance Program?
Email CTAP@imwis.com, call 510.740.6922 or click on the button below to contact us now.