CONSTRUCTION SAFETY SERVICES
Making Safety Priority One
Maintaining a safe and productive workplace is the cornerstone of success. Through our Construction Safety, Loss Control and Prevention Services, we facilitate compliance, help you manage risk, reduce injuries and loss, and increase efficiency and productivity. From providing Job Hazard Analyses and OSHA Training to on-site safety audits and ongoing oversight, we offer cost-effective support in establishing and maintaining a consistent safety culture.
Complex Projects Require Comprehensive Safety Solutions
Whether you are a project owner, general contractor, public agency or non-profit, we partner with you to address your unique construction safety needs and apply our knowledge and experience to help you develop or enhance your safety priorities and philosophy. Our approach to training employees and subcontractors and supervising on-site safety creates a collaborative environment and educated workforce that is actively engaged in implementing your project safety program. Our seasoned team of professionals consistently achieves improved safety practices for clients with complex, large-scale projects, such as construction currently underway at the San Francisco International Airport, as well as for projects involving multiple stakeholders, such as joint development ventures between public and private entities. We welcome the opportunity to explore how we can help you meet your project safety needs and inclusion goals.
Our Services Include:
Project Compliance and Risk Assessments
Existing Safety Program Assessments
Site-Specific Safety Program Development
Customized OSHA and Best Practices Training
Safety Program Administration
Safety Staffing
Ongoing On-Site Safety Supervision
Periodic On-Site Safety Audits
Incident/Accident Investigation and Reporting
Representation During OSHA Regulatory Inspection
Specialized Hazard / Risk Assessments and Consulting
Risk Management
Insurance & OCIP/CCIP Services
San Francisco International Airport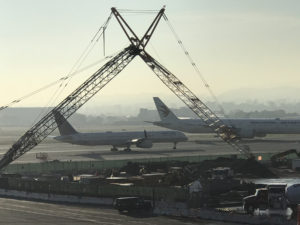 With San Francisco International Airport's (SFO's) commitment to leading the way in safety management, our Construction Safety Team provides on-site safety services to help protect the airport's assets and interests in all of their ongoing construction projects, including overall safety oversight, coordinating safety audits, inventorying and inspecting equipment, and offering OSHA training for airport staff and contractors.
For SFO's $3.7 Billion Expansion Project, which spanned 7 years and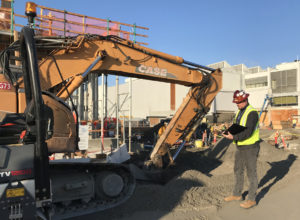 included over 1,000 contractors, Merriwether & Williams provided comprehensive project support and program administration, including administering a comprehensive project safety incentive program as part of an Owner-Controlled Insurance Program (OCIP).
We have been recognized by airport leadership and prime contractors as playing a vital role in mitigating risk and loss,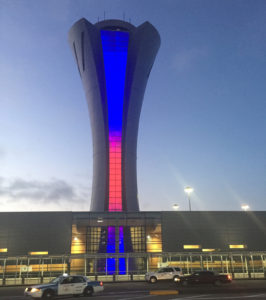 reducing incidents and creating an overall culture of safety, helping to make SFO's safety program one of the best in the nation. Key in this success is our collaborative approach to working with the project owner, airport staff, prime and subcontractors to coordinate and standardize safety-related training, communications, implementation and reporting, which has eliminated redundancies, increased efficiency and encouraged the timely self-reporting and addressing of potential issues before they become incidents.
Because SFO has made inclusivity a priority throughout its projects, we have also been able to offer our assistance and expertise with a long track record of assisting minority and small local contractors in developing the professional knowledge and skills required to meet the airport's vast construction-related needs and safety standards.
(click on photos to enlarge)
"Rather than replicating the old 'policing' style, Merriwether & Williams contributes to San Francisco International Airport's safety culture by providing expert industry guidance and training while creating trust-based relationships between our Safety Team, the airport's leadership, staff, and prime and sub-contractors. Our experience in developing partnerships and building a sense of community among different stakeholders really lends itself to creating a comprehensive safety culture in which everyone actively participates in workforce safety." 
– Ingrid Merriwether, President & CEO, Merriwether & Williams Insurance Services
Oakland Army Base Redevelopment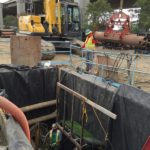 The Oakland Army Base Redevelopment Area is a 422-acre site located on the Oakland waterfront. A collaboration between developers, investors, government and public agencies, unions, and community members, this redevelopment project requires close and frequent coordination with all stakeholders. The first phase has been the removal and replacement of obsolete underground utilities and structures.
Under the Oakland Citywide Owner-Controlled Insurance Program, Merriwether and Williams Insurance Services provides third-party construction safety oversight – including minority and small business outreach and training, job hazard analysis, injury and illness prevention programs, contractor safety workshops and on-site construction safety audits. Our proven ability to faciliate the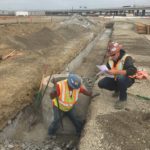 participation of small and minority businesses, promote cooperation between multiple stakeholders and surrounding community members, and implement comprehensive safety practices has been instrumental in helping this extensive project exceed its inclusion targets and safety goals.
This ambitious venture is not only transforming the landscape of the former military base, but – through outreach, apprenticeships, individualized support and small business development – providing opportunities for underrepresented and disenfranchised locals to rebuild their community and improve their individual circumstances.
(click on photos to enlarge)
The Mexican Museum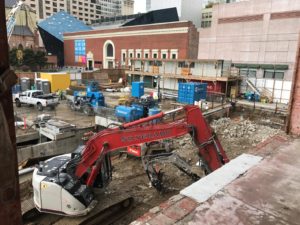 When the Mexican Museum, which showcases a significant collection of historic and contemporary Latino art, outgrew both its original Mission District and current temporary Fort Mason location, a collaboration was initiated between the museum, developers and the San Francisco Redevelopment Agency, resulting in an innovative, multi-use project located at Third and Mission Streets, in downtown San Francisco, adjacent to Jessie Square Plaza and Yerba Buena Gardens. The 700,000 square-foot complex will house the non-profit museum, retail space and 146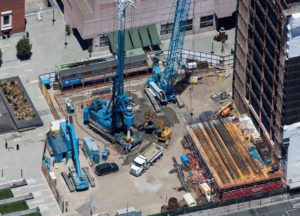 residential condominiums, along with public and private parking.
Because of our expertise with complex projects, Merriwether & Williams Insurance Services was brought in to provide on-site safety consulting services for the 60,000 square feet of construction on the ground through fourth floor levels, which will eventually become the new Mexican Museum. We work closely with the developer, prime contractor, and the project insurer to monitor construction safety, touring the project site twice a month. During each on-site visit, we coordinate with the general contractor's safety manager to audit project safety pertaining to workers and ongoing construction site maintenance, which allows any issues identified in the field to be promptly addressed.  We report to the wrap-up insurer monthly. Our ability to understand and support the implementation of the developer / general contractor's safety culture is helping to keep this extensive project running smoothly, safely and on schedule.
(click on photos to enlarge)
Helping Small Contractors Meet Quality and Safety Standards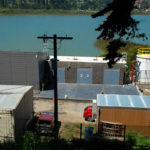 Prime contractors and project owners understandably need their projects to meet required safety and quality standards, and one of their biggest concerns is that small contractors may lack the experience and know-how to satisfy those requirements. This is why, in addition to offering specific training, workshops and support services to help small contractors gain the requisite knowledge in their field, our Safety Team is also on call to help resolve any potential issues, so that projects can be completed correctly and on-target.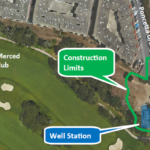 When LBE contractor JDB & Sons Construction, Inc. (JDB) was awarded over $1 Million in project work for the Public Utilities Commission on their Groundwater Supply Well Stations, it seemed like a great growth opportunity for this small business. Tasked with the complex site preparation and construction of four new groundwater well stations and the installation of all related mechanical systems, JDB soon found themselves at odds with the project owner due to safety and quality control concerns. At this point, our Safety Team stepped in, met with JDB and the project owner and assisted the contractor in getting back on track to successfully complete the project. To provide the necessary guidance and support, our Safety Team: 1) met with the small contractor, JDB, to review their existing safety plans; 2) assessed the project needs; 3) created Safety and Quality Control templates for JDB to use on the project; 4) coordinated with the prime contractor's Safety Team to help oversee JDB's onsite performance; 5) met with JDB every morning at the job site to review the safety plans for that day's work and to provide feedback on any quality issues; 6) attended progress meetings with the prime contractor to make any course corrections as needed.
Because of our Safety Team's involvement and intervention, the project was completed safely, correctly and on schedule. The prime contractor could feel confident that safety and quality control requirements were met and the small contractor got the oversight and direction to implement the standards required to complete the project. Once the relationship between the prime and sub-contractor was restored by JDB proving that they could satisfy the requirements, JDB went on to successfully complete a number of other portions of this large-scale project.
In our experience, given the opportunity and guidance, we've seen that most small contractors will do whatever they can to make things right, not only because they take pride in what they do, but also because they understand that their long-term success depends on meeting project safety and quality standards. With over 20 years in this industry, working on behalf of prime contractors, project owners and small contractors, we are able to provide expert and timely support which can make the difference between failure and success and create mutually beneficial outcomes for all stakeholders.
Photos above: first image: Western Water Project; second image: Western Water Lake Merced site – used with permission (click on photos to enlarge)
"We're making a difference for our clients. There are notable quantitative and qualitative improvements based on our collaborative and cohesive approach to on-site safety programs."
– Anthony Grasso, Safety Manager, Merriwether and Williams Insurance Services
OSHA Outreach Training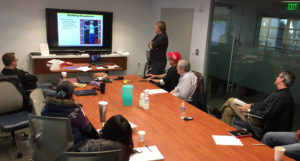 Avoiding work-related hazards and injuries means providing workers with the necessary training to do their work safely and efficiently. Merriwether & Williams Safety Services Team provides 10 and 30-Hour OSHA Training in construction safety for owners, employees, and subcontractors. Rather than a "top-down enforcement" style, our approach fosters individual and collective engagement in safety practices, which has proven highly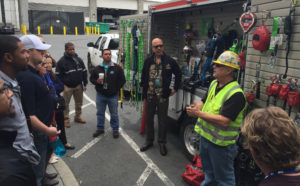 successful in promoting a long-term culture of safety awareness and implementation.
Collaborative environments create opportunities for contractors to learn from each other and, because they feel valued as members of a larger team, increase the likelihood that team members will self-report on any potential issues before they reach a crisis point. Our OSHA Outreach Training and Safety Services have been recognized by San Francisco International Airport, Los Angeles World Airports and numerous prime contractors as a contributing factor in their excellent construction safety track records. We educate and empower contractors to take responsibility for individual and group work site safety.
(click on photos to enlarge)
"Using a progressive training approach helps contractors understand on a personal and practical level why day-to-day safety practices are imperative for their own individual well-being and for the success of the whole project. Merriwether & Williams teaches people how to work together to consistently make safety the priority, and the results speak for themselves." 
– Anthony Malson, Senior Safety Manager, Merriwether and Williams Insurance Services
Our Construction Safety Team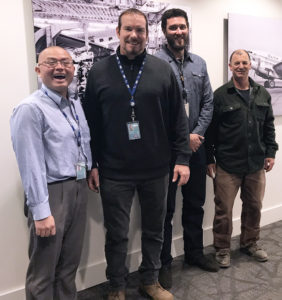 Our Construction Safety Team includes Risk Analyst Viet Do, Senior Safety Manager Anthony Malson, and Safety Managers Bryan Sullivan and Anthony Grasso.
Our Safety Managers have extensive hands-on experience in the construction industry and in-depth training and certifications in construction safety, while our Risk Analyst's expertise in employee training and audits has earned him special recognition from San Francisco International Airport for his role in the successful implementation of their new electronic insurance tracking system. Together, our team members provide our clients with project-specific on-site safety training (including OSHA and Construction Safety courses), safety program design and implementation, and ongoing monitoring, auditing and oversight.
"Merriwether & Williams' Risk Analyst Viet Do was very instrumental in the roll out of SFO's new electronic insurance tracking system. His experience and knowledge with software systems in general contributed greatly to the successful deployment of the system […]. His direct participation in the testing and documentation phases of the project was greatly appreciated by all on the [….] implementation team and provided the team with accurate and timely delivery of milestone deliverables. In my opinion, it would have taken much longer to deploy the system without him.." 
– Antonio Eshabarr, Deputy Manager, Risk and Audit Management, San Francisco International Airport
Internship for Workforce Development
For project owners and general contractors who are trying to balance mandatory inclusion goals around small businesses and disadvantaged workers with needing a skilled and professional workforce, we offer specialized Mentor Training and Internship Programs  to introduce underrepresented community members and businesses to the Construction Safety Field as a career opportunity and to support them in developing the requisite knowledge and skills to successfully contribute on projects of varying scale.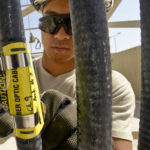 From hosting safety orientations to providing project-specific training and support, we can partner with you to help you meet your inclusion goals without sacrificing workforce safety, and with proper pre-project planning, without slowing down your timeline.
Some of our workforce development activities include coordinating an introductory event for community members with little to no prior exposure to construction who are interested in entering construction-related fields.
(click on photos to enlarge)
Safety: A Collaboration of Like Minds
For assistance with any of our Construction Safety, Loss Control and Prevention Services, please email Lakeisha Vaden at lakeisha@imwis.com, call us at 213.258.3087, or use the contact button below.
Commercial Property & Casualty Brokerage Services